BeLeaf Blog
| | | |
| --- | --- | --- |
| Sundin beats Leafs' record | | |
Friday, 12 October 2007
Mats Sundin finally acheived the inevitable during an 8-1 breakout win on Thursday night. While it is not surprising that the big captain set the record, it is surprising that the Leafs' have not been able to reach the Stanley Cup finals despite having their greatest player ever in the lineup these past 10 years.
| | | |
| --- | --- | --- |
| Can the Leafs pull off a successful jersey redesign? | | |
Monday, 27 August 2007
There are a few wild discussions going on here and here about the speculation around the CBC's mockup of the new Leafs jersey. I hope that TML recognizes that when every Leafs fan loads up EA's NHL we go straight for the classic '67 jersey.
Most teams redesign logos to sell caps and jerseys.. TML never had any trouble selling merch to Leafs fans. It would be nice to see something new as a 3rd or 4th jersey though.
| | | |
| --- | --- | --- |
| Can the Leafs score 270? | | |
Monday, 27 August 2007
There's an interesting projection of goals per team for the coming 2007-2008 season over at dobberhockey.com .

Projected Top 5 Teams by Goals For


1. Pittsburgh
2. Ottawa
3. Buffalo
4. Toronto
5. Colorado

If this is the case, we should expect some very high scoring games in the Northeast this season.

Interesting to see an expected 12 goal production increase, obviously from the addition of Jason Blake. If the Leafs can live up to these projections, and see more consistent goaltending from the team of Toskala and Raycroft, we should see some good games on HNICevery SaturdayThis is going to sound very jaded, but as a true Leafs fan, it's hard to truly believe we have the potential to succeed. Any time I see something this optimistic, I get visions of Jason Blake going down in a knee-on-knee collision in mid-November. Yeah I shouldn't say it but we all expect this sort of luck.

We are just 3 weeks away from our first pre-season game against the Lowe's Oilers and big Dustin Penner (seriously, he's 6'4").
In other news, Belfour has officially signed in Sweden - too bad he'll no longer be able to increase his NHL wins, shutouts or games played totals, but his numbers will still keep him as one of the best ranked goaltenders for a long time.
| | | |
| --- | --- | --- |
| Myers to Capitalize on 40 Years of Leafs Misery! Finally Some Attention! | | |
Friday, 24 August 2007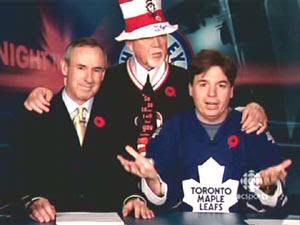 As mentioned over at Pension Plan Puppets , Mike Myers is set to begin shooting next month on a feature length comedy called The Love Guru which
revolves around Pitka's efforts to help a Leafs superstar (played by Romany Malco; remember, it's fiction) fix his marriage so he can get out of a huge slump and rally to help bury the "Bullard Curse" that has prevented the Leafs from winning a Cup for the past 40 years. The bad guy is played by Justin Timberlake, who portrays a star player for a rival team who steals the hockey hero's wife and causes his game into a nosedive.


Personally I can't wait for a new Myers movie, and it's about time we see a movie about OUR misery after sitting through Boston, Cleveland and probably many other teams movies that I can't remember.
Go check out the original article.
| | | |
| --- | --- | --- |
| Peca to Columbus? Not to worry, all is Well(wood).. | | |
Wednesday, 22 August 2007
While I am a big fan of Mike Peca , I had accepted him as no longer being a part of the Toronto Maple Leafs since the end of last season. Not having Peca leaves room for the young players to get more ice time and to develop.


In the center position, I'm most excited about seeing Kyle Wellwood this season. At the time of his injury, Wellwood was running at almost a point a game and on pace to break 70+ points. While Peca brings leadership and stability to special teams, Wellwood has the potential to make the other scorers on this team better with his creativity.

Wellwood just may end up being Jason Blake's replacement linemate for Alexei Yashin.
| | | |
| --- | --- | --- |
| Mark Bell? Say it ain't so! | | |
Wednesday, 15 August 2007
With yesterday's guilty plea to drunk driving and hit and run, Mark Bell became the hottest news in Leaftown just as early practices have begun.

While much has been written over the past day about the implications for JFJ, and the implications for Bell's contract, I tend to see this situation with less shock or dismay.

To say that JFJ or the Leafs may have been blindsided by this is a big reach in terms of criticism. Whether the charge was already common knowledge to them at the time of the trade or not, it would seem to be a very standard practice to review a player's criminal history when you aquire them. In fact, the Toronto Sun article says this:


The Leafs were well aware of the hot water Bell was in when they acquired him in June as part of the Vesa Toskala trade with the Sharks.

But Bell said at the time of the deal he hoped the legal problem "will take care of itself".

General manager John Ferguson told reporters in June that "with all the research we've done, we feel he's in good hands."
Not only that, but as Don@BattleOfOntario points out - Sens fans were laughing at us about this from the start. I don't really see any strongly merited criticism of JFJ over this. Does anybody know whether the Leafs will have to pay Bell during his jail time?
With the 6 month jail term set to start at the end of next season (including playoffs?), Bell should serve time from June 2008 - December 2008. I'm not sure what level of training Bell would be able to maintain from prison, so whether or not he'd be able to play come December is the biggest question to me - a question best left for next off-season.

So in keeping with my recent raids of youtube for footage of our new Leafs, enjoy some of Mark Bell's better moments...




| | | |
| --- | --- | --- |
| Pilar off to Atlanta | | |
Thursday, 09 August 2007
From GlobeSports.com :
"The Atlanta Thrashers signed free-agent defenceman Karel Pilar and forward Milan Bartovic to contracts on Wednesday. The 29-year-old Pilar most recently was part of the Toronto Maple Leafs organization. He had seven points (2-5) in 10 games last season after joining the AHL's Toronto Marlies."
Good luck to Karel now that he's recovered and finally get a full season in the NHL. I'm not sure what his potential was here, perhaps a solid #4 or #5 defenceman? I tried looking around for old news onPilar but could only really find this.
| | | |
| --- | --- | --- |
| More Blake.. Waiting for Leafs News | | |
Tuesday, 07 August 2007
It's slim pickings for Leafs news so far this week. Apparently the new dehumidifier they're installing at the ACC will keep the ice strong enough for Jason Blake to skate around with the cup come June. I'm not holding my breath for Scotty Bowman either.
For that reason I'm still browsing youtube for videos of our new Leafs, hoping for glimpses of the future. What Leaf-haters don't seem to understand about us Leaf fans is that dreaming of what "could be" is all us Leafs fans really have... sometimes the summer time is the best time of the hockey season!
| | | |
| --- | --- | --- |
| Blake Highlight Reel | | |
Friday, 03 August 2007
Since those Toskala highlights were so nice, here are some Jason Blake highlights to get excited about while you wait for the preseason to start next month. Apparently tickets go on sale for the Blue and White game next week, and the game is always a decent amount of fun for hockey in August.
I remember that goal on the Leafs early on in the clipshow. It will be nice to have a guy like this on the team, especially with some offensive threat coming back on defence. I'm very impressed by the patience he has in his hands, he's able to wait out goalies for the right shot, unlike some plays at the net I rmember theLeafs stuggling through with seconds to go last season..
| | | |
| --- | --- | --- |
| Vesa Highlight Reel | | |
Thursday, 02 August 2007
If you're like me, you pulled up YouTube right away last month to check out Vesa Toskala in action and see what he's all about.
If you haven't had a chance to see him in action, enjoy this set of clips, and look forward to some preseason games on Leafs TV next month.